Omega Pain (end pain) was where I started, and my mission was just to do that...end pain. The key to my deliema was doing it without narcotics that hide the pain; and focus on healing the body, and the mind. The products below are the original formula that came about from my great-grandmothers inspiration; and to me and many of my customers they have been a blessing.
13 essential oils, emu oil, sunflower oil, and distilled water in the spray and beeswax in my massage balm. I do my own blending and use no synthetics, alcohol, or chemicals. No need..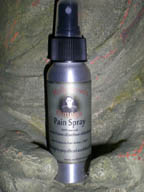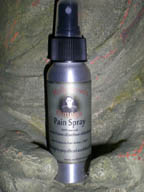 This is my Massage Therapist / Accupuncturist in a spray bottle
My 3 oz pump spray was the first, and though I love the massage balm, this goes everywhere I go. My customers tell me they don't leave home without it...fast,long lasting relief...no need to massage.
God produces the most powerful medicines...I only package them
3 oz pump spray - $15.00